Women like to experiment with hairstyles. For a lady it is important to get new looks each day. Women like to look romantic or determined. Each of this feeling can be expressed by a right hairdo.
Today, females like to feel independence. Because of this they often choose androgynous hairstyles. Hairstyles like this will suit both a man and a woman. Discover beautiful androgynous haircuts for females.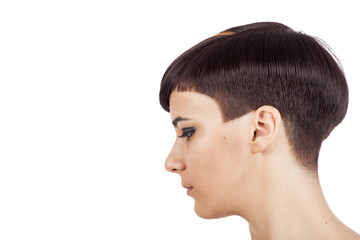 Stylish Androgynous Hairstyle Ideas
There are many androgynous ideas to choose from. It is important that a woman understands clearly what type of look she wants to create. Here are some of the most impressive haircuts:
Extra-short pixie haircut with low fade. This is a hairstyle that will go well for determined women. Such a hairdo will be perfect to wear with a business suit. Low fade helps to make this  hairstyle looking even more masculine. One of the main benefits of such hairdo is that it is very easy to style.
Low fade hair with a short quiff. It is a fine hairdo for stylish women. This haircut will go well with casual clothes. If a females dyes a quiff in a bright or dark color it make this hairdo even more impressive. Such a hairdo needs to be carefully styled everyday. For that purpose it is good to use gel.
Low fade hair with a braid in a center. It is quite an unusual idea. Women who like extraordinary looks will definitely like such image. It looks both minimalistic and feminine.
Androgynous hairdo with undercut. It is one of the most stylish

androgynous haircuts for women with thick hair.

This hair will be perfect to wear for everyday. It will also be a fine hairdo to visit special events. If a woman wants to make this hairdo even more stylish, it is good to add spiky tips. They will make this hairdo looking even more impressive.
Medium fade cut with fringe. This is right hairdo for women who are very self-confident. The contrast between medium size fade and long bangs will definitely look splendid. It is a perfect hairdo to wear with casual clothes.
Pompadour. It is a classic type of androgynous hairstyles. This is very easy to style haircut. It is a great hairstyle idea for women who like comfort. Such a hairstyle is ideal to wear for work. It looks very accurately.
Pixie with side-swept bangs. This is an ultimate solution for females who want to keep a right balance between masculinity and femininity. Bangs will make this hairdo looking very feminine. To individualize this hairstyle even more, it is a good idea to get side-swept bangs. It will look extraordinary.
Medium fade with long parted fringe. It is a right hairstyle idea for females with a fine sense of style. Medium fade will look perfect with parted long parted fringe. Such hairdo is fine to wear with business suits or evening dresses.
Fade cut and bantu knot haircut. It is a fine hairstyle idea for fashionable females. Fade cuts makes a hairdo looking very masculine. Tiny bantu knots in the center of a head add femininity to this haircut. Such a combination will look memorable.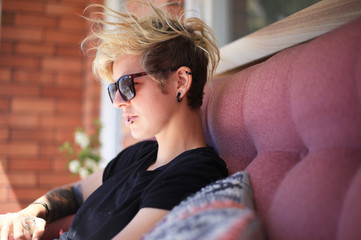 Such androgynous hairstyles look finely. They permit to create a good look. What is important you can always have a different hairdo. The more hairdos you try, the more interesting a personal style will become. Try to always innovate a personal look. That will help you to live more interesting.