Cute and comfortable wedges have already replaced fashionable stilettos and open toe heel shoes for a lot of women. In the summer season, a floral dress and wedges go together like peas and carrots. The same way, you can perfectly match a pair of wedge boots and a warm coat in the fall. It is just a perfect combination, that is comfortable enough to wear it all day long.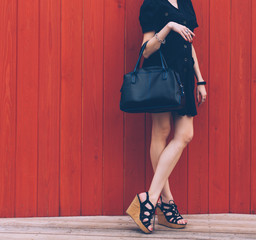 Even if you are a fan of high heels and stilettos particularly, you'll understand how easier it is to be outside all day long in something more comfortable but as cute and stylish as your favorite high heeled shoes.
So, how to find a perfect outfit combination with a pair of wedge shoes to make it work for you? How to match clothes to create a beautiful silhouette? And where to start from if there are so many options on the market?
What we recommend is starting with a pair of qualitative black wedges. Don't go for green, yellow, printed, or decorated wedges if it is your first pair. Gor for something, which easy to style. Go for a classic black color. You can't go wrong with it.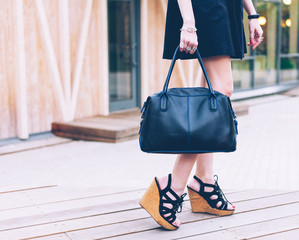 5 Outfit Ideas with Black Wedges
Do you know what Kate Middleton, Eva Mendes, Kate Beckinsale, and Charlize Theron have in common? All of them wear wedges a lot. So, why not to get one pair too?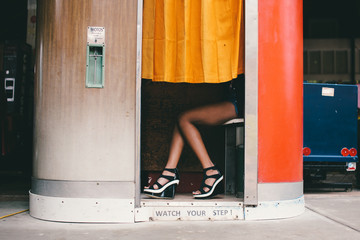 To find the perfect outfits, which can be complemented with black wedges, you have to play with the wardrobe a little bit to see what works better. The first option is to wear a sheath dress in a warm grey tone and a pair of slim wedge shoes in black color. This look can be easily worn to the office.

The second outfit is a combination of a wrap dress in deep blue or green color and a pair of rivet wedge sandals in black. It is a very chic and elegant look, which can be worn on a daily basis.

For the next look, get a printed dress, which is a combination of darker and brighter colors and match it with a pair of simple black wedges. Don't be afraid of such a crazy combination. Link the whole look with a bag of dark colors.

A pair of black wedges perfectly goes with a cocktail dress as well, even if it is a dress with an animal print or something like this. Wedges will balance the look.

And the last but not the least – finish black jeans and a blouse with a blazer outfit with a pair of wedges like Kate Middleton does.
Hopefully, you've already picked your favorite outfit with a pair of black wedge shoes too.